KEmulator nnmod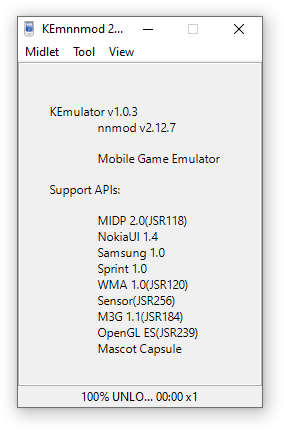 Changelog:
nnmod v2.12.8 [2023.05.18]
nnmod v2.12.7 [2023.05.15]

Using win32 api to obtain key states
Updated swt library to 4.7
Increased file path size limit
Fixed player initialization from file
Fixed IOException when creating wav player from url
Fixed for linux (nnx64)
Fixed profiler
Fixed RecordStore.listRecordStores (Doom 2 RPG fix)
Canvas fps limiter fix
Improved performance
com.nokia.mid.sound fixes
[RU]
Мод, который улучшает работу KEmulator и добавляет много новых возможностей.
Основан на моде от max20091.
[Главные отличия от v1.0.3]
Поддержка воспроизведения видео и протокола RTSP с помощью libVLC
Улучшения возможностей lcdui
Улучшено воспроизведение MP3
Поддержка VirtualMidiSynth
Частичная реализация NokiaUI 1.4
Исправлен HTTPS
Добавлен патч Mascot Capsule от woesss
Добавлен Discord Rich Presence
[Подробный список отличий]
Общее:
Обновлена библиотека SWT и LWJGL.
Добавлен выбор MIDlet'а если их больше одного.
Добавлено больше моделей Nokia.

MMAPI (Мультимедия):
Добавлена библиотека vlcj
Добавлена поддержка capture://image
Добавлена реализация DataSource плеера.
Улучшено определение Content-Type медиаконтента.
Добавлена реализация setMediaTime()
Изменена библиотека декодера MP3.
Добавлена поддержка видео через vlcj.
Добавлена поддержка RTSP через vlcj.
Улучшено воспроизведение MIDI

Управление:
Добавлен режим "Canvas keyboard", для использования всей клавиатуры.
Изменен способ опроса клавиатуры и мыши.
Добавлен режим FPS (виртуальные нажатия стрелок с помощью мыши)

Интерфейс:
Исправлены баги lcdui.
Добавлен анти-алиасинг шрифтов.
Добавлен lcdui.Gauge.
Исправлены NullPointer'ы во многих местах.
Добавлена реализация SoftNotification из NokiaUI 1.4
Добавлена реализация свободного размера шрифтов из NokiaUI 1.4

I/O (JSR75 и сеть):
Исправлены баги FileConnection.
Обновлены cacerts.
Исправлен IOException при HTTP ошибках.
Добавлена поддержка ServerSocketConnection.

Прочее:
Улучшен MemoryView.
Добавлен масштаб 50% в просмотре изображений в MemoryView.
Уведомление пользователя о том что приложение хочет заполучить IMEI устройства
[Важно]
Для работы видео и RTSP нужен 32-битный VLC.
Он должен быть установлен в системе или введен в настройках.
[EN]
Mod, that improves KEmulator work and adds many new features.
Based on mod by max20091.
[Main changes from v1.0.3]
Video and RTSP streaming support using libVLC
lcdui abilities improvements
Improved MP3 playback
VirtualMidiSynth Support
Partially implemented NokiaUI 1.4
Fixed HTTPS
Added Mascot Capsule patch by woesss
Added Discord Rich Presence
[Detailed changes list]
Common:
Updated SWT & LWJGL libraries.
Added MIDlet choice if there's more than one.
Added more Nokia device configurations.

MMAPI (Multimedia):
Added vlcj libary
Implemented capture://image support
Implemented DataSource player.
Improved Content-Type detection.
Implemented Player.setMediaTime()
Changed MP3 decoder library.
Added video support using vlcj.
Added RTSP support using vlcj.
Improved MIDI playback

Control:
Added "Canvas keyboard" mode, for using entire keyboard.
Changed mouse and keyboard listening method.
Added FPS mode (virtual arrow keys pressing using the mouse)

UI:
Fixed many lcdui bugs.
Added font anti-aliasing.
Implemented lcdui.Gauge.
Fixed NullPointerException in many places.
Implemented SoftNotification from NokiaUI 1.4
Implemented free font size from NokiaUI 1.4

I/O (JSR75 & Network):
Fixed bugs with FileConnection.
Updated cacerts.
Fixed IOException causing on HTTP errors.
Implemented ServerSocketConnection.

Misc:
Improved MemoryView.
Added 50% scale in MemoryView images.
Added notification when the application wants to get IMEI of device
[Important]
You need 32-bit VLC for videos and RTSP support.
It must to be installed in system, or its path needs to be entered in Settings.